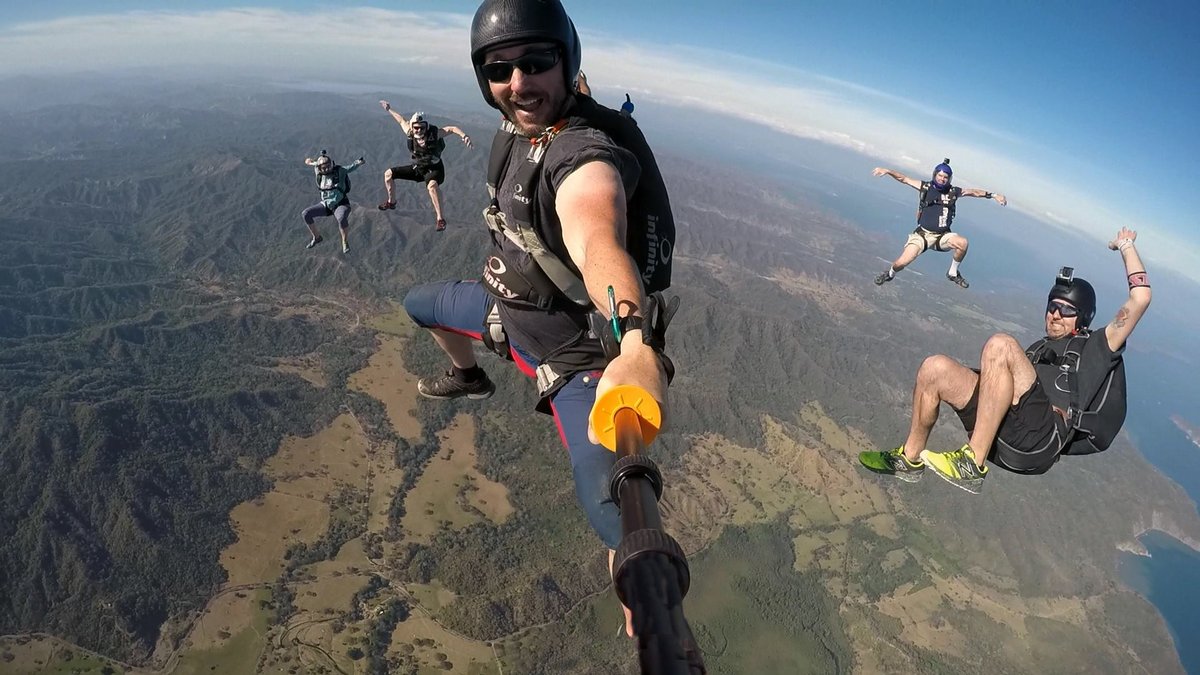 Type: Multi-Discipline
Andy Malchiodi (Mal-kee-o-dee), made his first tandem skydive in
1996. Upon graduating college in 2001, he re-located from the east coast to the
west. Since that time, he has made over 11,000 skydives, committed over 200
hours in vertical wind tunnels, broken 8 world records, won 6 U.S. skydiving
national championships, and took gold and silver medals at back to back world
championships. He has performed demonstration jumps all over the world, and
performed aerial stunts for film and television.
Experience
As a gregarious personality, and a fierce competitor,
Malchiodi found a home in the skydiving community and sub-culture. He "cut his
teeth" in the early part of the decade, "fun jumping" on the weekends, and honing
his skills.
In 2006, he made the decision to become a full time skydiver. He began by
coaching others in his discipline of choice, "freeflying," which encompasses
vertical, as well as flat, methods of body flight. He earned his instructional
ratings around this time as well, and began teaching people to skydive, doing
thousands of tandem and "AFF" instructional skydives. He also assists in the
training of future navy SEALS, at the naval freefall school in San Diego.
His competitive nature brought him to the highest levels of freefly competition,
and earned him multiple national championships, and a world championship. He
has also been a participant and co-organizer of multiple world and state record
skydives.
As his reputation grew as a quality skydiver with a genuine personality, doors
began to open in the realm of aerial stunts and demonstration skydives. He has
taken full advantage of these opportunities, participating in ambitious aerial stunt
projects and performing demonstration jumps on multiple continents.
Stats and notable achievements
* Jumps: 11,300
* Freefly national champion: 2008, 2009, 2010, 2012, 2013
* Freefly world champion: 2010
* MFS national champion: 2015
* World record holder (largest freefly formation): 2005, 2007, 2009, 2012, 2016
* World record holder (fastest freefly sequence): 2008, 2010
* CA state record organizer and world record co-organizer: 2009, 2010, 2012,
2013.
* Aerial Stunt Performer
* Samsung Galaxy
https://www.youtube.com/watch?v=zGLraza7RgA
* Toyota Spade
https://www.youtube.com/watch?v=E50yfcVwC24
Coke Zero
https://www.youtube.com/watch?v=dNgeXurAKcw
Cartoon Network
http://www.youtube.com/watch?v=jVW4smP2Gig
SoCal Converge (2010 world championship routine)
https://www.youtube.com/watch?v=iI0qzii-Bm0
Team Fliteshop (2015 MFS highlight reel)